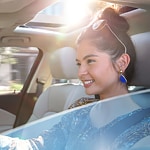 Buying your teen's first car is hard because you want to buy a vehicle they love but also one that keeps them safe. Check out three simple tips that will make the process a lot easier.
Look for Safety Features
Many parents around Corvallis buy new cars for their teens because they want to keep them safe. Older cars can also have all the safety features you need, including anti-lock brakes and blind spot detection.
Establish Your Budget
Take a look at a few different models to see if you can afford the car you want for your teen. Even if you only find models that are outside of your budget, you can negotiate the cost.
Take Test Drives
Get your teen excited about the process with a few test drives around Salem, OR. Make sure they can handle the power of the vehicle and that you feel confident with them behind the wheel. Come into Withnell Dodge Ram to get help narrowing down all of the top cars for your teen.