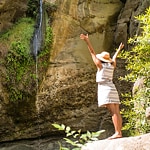 It's time to start your engines and hit the open road. At Withnell Dodge Ram, we want road trips to be lots of fun for your whole family. The following road trip games will make long journeys much more enjoyable for even the youngest members of your tribe.
Why not use your next trip as a chance for them to get some essential and fun practice on colors? As you drive, name several things you see of one color until one of your children shouts out the color name. For added fun, let one of the children call out the objects.
After your young scholar has been working on academics, it's time to lift your voices in song across Salem, OR, and beyond. Each family member can take a turn singing the first line of a song while others guess its name. Choose songs everyone knows to maximize fun.