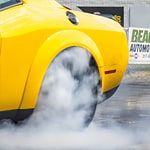 The 2020 Dodge Challenger is a muscle car that is known for its bold exterior. It has the ability to seat up to five people. The iconic styling is what catches a lot of people's eyes. People are looking for more than just a car that will get them from point A to point B.
This vehicle has 18-inch carbon aluminum wheels. Carbon aluminum wheels are strong and durable. You will be able to have a smooth ride. Remote start is another one of the features that this vehicle has. You won't even have to take your key out of the pocket in order to start the car.
All you have to do is push the button on the key fob. The vehicle will stay locked unless you unlock it. The parking lights will flash after you have successfully unlocked the car. Visit the dealership if you want to try out the Dodge Challenger.