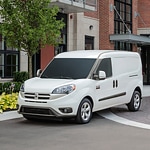 The Ram ProMaster City is one of the most popular cargo vans and passenger wagons on the road today. Its popularity in part comes from its numerous impressive durability features. Discover how these features make owning and driving the new ProMaster City a unique experience today.
To start, the new ProMaster City from Ram comes with powerful cargo capacity. You can load up and haul thousands of pounds in the back of the van and not faze its engine or body. It is ideally suited for hauling everything from furniture to machinery.
It also has ample cargo space in it to allow you to pack it full of anything that you need to transport. You get dozens of cubic feet of storage space in the back and middle of the van. You can easily pack in sporting equipment, band instruments, shop vacuums, and dozens of other items while leaving plenty of space for passengers.